How do you create a web design layout that makes your site stand out from the crowd? This is a question that comes up time and time again. If you want to get noticed, then you need to have a unique web design layout. Here are some tips to help you achieve this goal and even have the best web design layout:
1. Make it visually appealing
The first thing that people see when they visit your website is your web design layout. So make sure that it's attractive. You don't want to be stuck with a boring looking layout. You will want to have the best web design layout because if not, it will only turn off visitors. Instead, try to come up with something creative.
Nonetheless, do not overdo things. Keep in mind that you should still keep it simple so that it doesn't look too cluttered. Creativity should not trump simplicity when your goal is to have the best web design layout.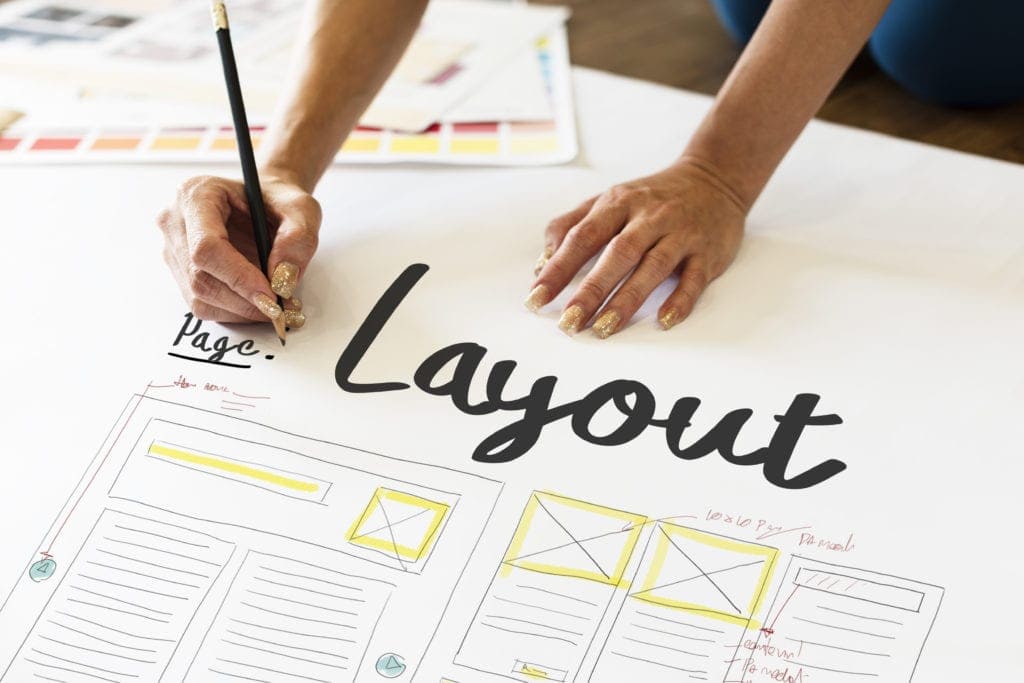 2. Use eye catching colors
Another way to make your web design layout more interesting and achieve the best web design layout is by using eye-catching colors. There are many different ways to use color in order to catch attention. For example, you can choose bright colors or pastel colors.
Or you could even go for an all black background. Whatever you decide to do, just make sure that it works well with your overall style and follow guides like this one to help you choose a color scheme.
3. Include multimedia
Multimedia content includes images, audio clips, and videos. These types of content can help make your site more attractive, allowing it to have the best web design layout. In addition, they provide a fun element to your website.
Images can really add life to a website and contribute to it having the best web design layout. They can also give a professional look to your website. There are many different ways of using images in your web design layout. One way is to use them as backgrounds or headers for sections of your page. Another option is to use images as icons. These can be used to represent links and buttons.
Audio clips, on the other hand, can be used to highlight certain aspects of your business. For instance, if you sell music, you might include a song clip that highlights your band.
And finally, videos are great because they help people learn about your products and services. They also provide entertainment value. Videos can be used to promote your business, highlight your company culture, and show off your employees.
4. Be consistent
To have the best web design layout, you should always strive to have a similar style throughout your site.
This means that all the text, images, and other content should match. This can be done by making sure that all the fonts, colors, and styles are kept the same.
Additionally, if you're going to have a specific theme for your web design layout, then stick to it. This doesn't mean that you can't change things around. However, you shouldn't stray too far away from what you originally planned. Otherwise, you may end up losing your audience.
5. Have a clear navigation menu
Your navigation menu should be easy to understand and follow if you want to have the best web design layout.
Navigation is important because it helps people find what they are looking for quickly. If users have trouble finding what they are looking for, then they won't stay long enough to read your content. If you have lots of pages, then you should create separate menus for each category.
Also, make sure that there is enough space between each item in your menu. Too much spacing makes it hard to see where one menu ends and the next begins.
6. Make your site mobile friendly
Mobile devices are becoming increasingly popular. In fact, according to Statista, nearly half of all online activity now occurs on mobile phones. So, if you want your website to reach as many potential customers as possible and make it have the best web design layout, then you need to make sure that it works on mobile devices.
There are various ways to do this, but one way is to use responsive web design. Responsive web design allows your website to automatically adjust itself to fit whatever screen size someone has. It does this by changing its appearance based on the device being used.
7. Be mindful of diversity and inclusion
Diversity and inclusion (D&I) refers to making sure that everyone has equal access to opportunities regardless of race, gender, sexual orientation, religion, age, disability, etc. D&I is essential when aspiring for the best web design layout and there are different ways to keep it in mind.
You can do this by ensuring that your website is accessible to as many users as possible. Another way to promote D&I is by using inclusive language throughout your website. This means avoiding words such as "he" and "she". Instead, use terms like "they", "them", "their", and "people." You can also use images and illustrations that can represent varied people.
8. Provide search engine optimization
Some designers may forget this, but to have the best web design layout, SEO should also be given importance. Search engine optimization (SEO) helps websites rank higher in search results. SEO involves optimizing your website so that it ranks well in search engines like Google.
To optimize your website, you must ensure that all relevant keywords appear in the right places. You should also include meta tags, titles, descriptions, images, and links on each page. This will help search engines understand what each page is about and how it relates to other pages on your website. Furthermore, you should create unique content for every page on your website. If you don't, search engines may not be able to find your website.
9. Use social media
Social media sites like Facebook and Twitter allow you to connect with others, and there are various ways you can use social media in your site for it to have the best web design layout.
First, you can add social media sharing buttons which allow users to share articles on Facebook, Twitter, LinkedIn, Google+, Pinterest, Tumblr, StumbleUpon, Reddit, Digg, Delicious, and others. When you add these buttons to your web design layout, you increase the chances of getting traffic from those sites.
If you want to market your business effectively, then you also need to integrate social media into your marketing strategy and connect your website to your social media accounts. Social media sites such as Facebook, Twitter, LinkedIn, Pinterest, Instagram, etc., allow businesses to connect with current and prospective customers and keep them engaged.
10. Create a call-to-action
A call-to-action (CTA) is a button or link that encourages someone to take action. For example, you might have a CTA that says "Click here to read our latest article." By creating CTAs, you can encourage people to click through to another part of your website. Other recommended call-to-action are: "Buy Now!", "Sign Up!", 'Subscribe', "Follow Us", "Like Us", 'Share', 'Comment', 'Recommend', 'Contact Us', 'Learn More', 'Get Started', 'Download', 'Purchase', 'Join Our Mailing List', 'Find Out More', "Read more about us", "Request Quote", "Call us at (phone number)", "View our services", "Book a service", "Ask us a question", "Talk to us", "Chat with us", 'Live Chat', "Connect with us". The list just goes on!
A great CTA is a sign that you have the best web design layout for it allows people to not just visit but also engage with your site.
11. Include a blog in your web design
Blogs are great because they provide regular updates on new products, news, events, and other information. They also give visitors a chance to interact with you directly. Blogs are easy to set up and update, and most blogging platforms come with free templates. A good way to get started is by asking friends and family if they would be interested in reading your posts. Once you start receiving positive feedback, you'll know that you're onto something.
Also, the key to blogging is to write quality posts regularly. Readers appreciate regular updates from blogs. Blogs can also be a way to build trust with potential clients. Blogging is then really essential to have the best web design layout. Whether you built your website yourself or hired a development agency, it's up to you to implement a content strategy to keep your site fresh.
12. Add testimonials
Testimonials are an excellent way to build trust with your clients. People love reading reviews from happy customers. Therefore, including customer testimonials will give them confidence in your product or service. Testimonials can also increase conversions by showing that others were satisfied with your product or service. It's important to make sure that the testimonials are genuine and unbiased. Make sure that you only use real reviews and avoid fake ones. Also make sure to present these testimonials minimally yet creatively so customers can truly see that you are working hard to have the best web design layout.
13. Include an About Us section
An About Us section is also important if you want to have the best web design layout. An About Us section provides information about who you are and what you do. It also tells readers how they can reach you. An About Us page is usually found at the top of a company's home page. It may also appear under the Services tab. Regardless of where it appears, it is vital to include all relevant information. Here are some things you should include:
Your name – A brief description of your business.
Who you are – What kind of organization you are.
What services you provide – What products and/or services you sell.
Where you're located – Where you operate.
How to contact you – Phone numbers, addresses, and emails.
14. Provide a contact form
To make sure that your site has the best web design layout, you must not forget to put a contact form. A contact form allows people to get in touch with you easily and often includes your contact number, address, and email. Many companies offer a contact form on their homepage. However, some prefer to place it elsewhere on their website. Either way, a contact form is useful because it gives visitors the opportunity to ask questions without leaving your website. Make sure that your contact form is simple and clear.
Visitors want to know exactly what they need to do to reach out to you. In addition, consider adding a map or directions to your contact form. This will allow people to find you easily. Of course, see to it that you will do your best to answer any inquiries quickly.
15. Have a privacy policy
Having a privacy policy is very important for a site that aspires to have the best web design layout. The purpose of a privacy policy is to inform people of how their personal data is being used. For example, it explains how long someone's data will be kept for and whether it will be shared with third parties. If you don't have one, then you should create one immediately. Your privacy policy should include details about who owns the data, how it is collected, and how it will be used.
All in all, there are many different aspects to consider when designing a website, especially when you want one that has the best web design layout. But at the end of the day, you must take into account what type of business you have, the needs of your target audience as well as your budget. Hopefully, this article has given you some ideas on how to improve your website.